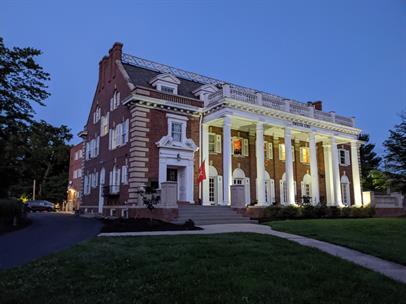 Our Approach
The Directors of Barrister understand what it takes to finance and manage rooming houses. We have over 90+ years of collective experience in forming, operating, financing, leasing, and purchasing fraternity housing.
Our Story
Most of us started out "learning by doing". We recognize that this is not the most efficient means to house our Chapters or facilitate our volunteer alumni. We are acutely aware of the level of effort it takes to establish a volunteer housing corporation, let alone operate a volunteer housing corporation. Frequently, a local housing corporation cannot take advantage of efficiencies of scale, shared processes, or the financials to withstand a downtown in tenancy. That's where Barrister comes in.
We established Barrister to invest in housing for our undergraduate members, leverage technologies and tools to engage and manage properties, while still focused on delivering a quality housing experience. We want to retain, enhance, and improve the housing available to our undergraduate members–helping to contribute to a memorable undergraduate fraternal experience.
We're passionate about sharing our lessons and experiences to serve our members and clients.
Meet the Team
Each board member comes from diverse backgrounds including fraternity house operations, fundraising, construction management, real estate, and property management.

J Jeffrey Broderick
President, Illinois State '81

Steve Bossart
Director, Kent State '90
Steve has stayed intimately involved with Delta Chi since his initiation in 1989 at Kent State University. He joined the staff and served for eight years. After a two year break, Bossart became the Regent for Region 6, beginning a tenure on the Board of Regents that lasted over a decade. Currently, along with his involvement with Barrister Capital Corporation, he is the ABT President for the Kent State Chapter, the "A" of the three time Chicago Cup winning Northeast Ohio Alumni Chapter, and he chairs the fundraising committee for the Delta Chi Educational Foundation. He is a strong proponent that Greek housing is a good investment on college campuses. Steve is the Vice President of Business Development and Marketing for Coleman Professional Services, a large behavioral health nonprofit in Ohio. He lives in Copley, Ohio with his wife, Lorrie and their two daughters, Sloane and Sutton.

Russell K. Williams, Jr.
Director, Georgia Southern '05
As a Director, Rusty evaluates the housing needs for Delta Chi's chapters and works to acquire competitive housing on each campus. Rusty, a native of Statesboro, Georgia, is a Founding Father of the Georgia Southern Chapter at Georgia Southern University, where he earned a Bachelor's of Business Administration degree in Economic Development. As an undergraduate member, he served his chapter as "B", "D", Associate Member Counselor and Convention Intern. After graduation, Rusty served on Delta Chi's staff as a Leadership Consultant and Director of Expansion & Colony Operations. When he isn't making moves for Delta Chi properties, you might find him at Lake Sinclair in the warmer months and at Paulson Stadium in the fall cheering his Eagles to victory!

Raymond D. Galbreth, Sr.
Vice President, Missouri '69

Dennis Marquardt
Treasurer, Minnesota '12
---

Alex Chan
Secretary, Legal Advisor, Massachusetts '92
Past Directors

Peter Lane
Past Director, Georgia Southern '07

Nikolaus Kern
Past Director, Southern Illinois '06
---
Next Steps…
Barrister Capital Corporation is here to facilitate your housing needs, partnering with Undergraduates, Chapters, and local housing corporations..  Contact us to find out how Barrister can help.